Veteran recovering from traumatic brain injury turns to new chapter as children's book author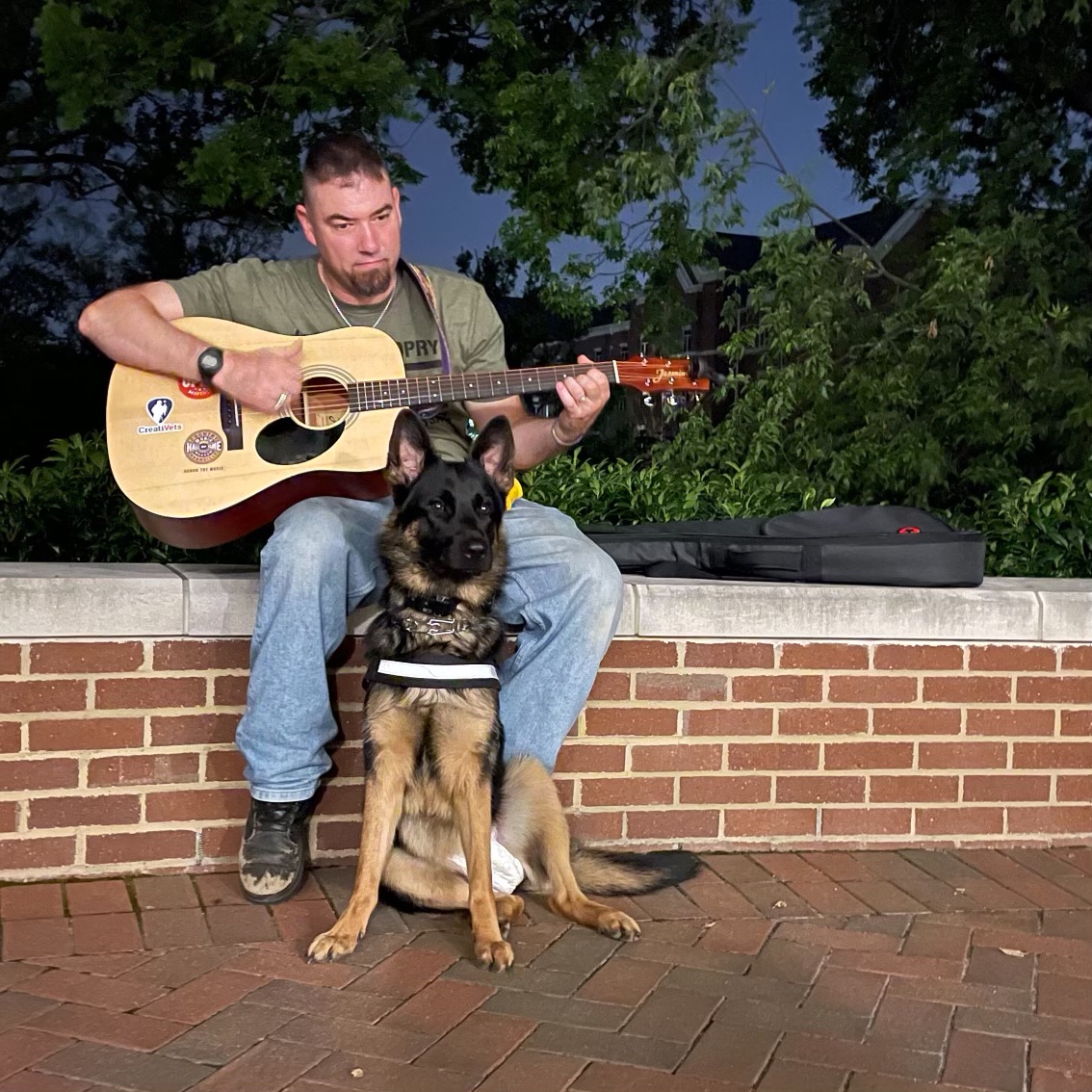 Army captain Brad Blazek suffered a traumatic brain injury while serving in Iraq in 2007.
Nearly 15 years later, severe migraine headaches, memory loss, difficulty with speech and other cognitive issues remain parts of Brad's everyday life. His brain sometimes stops sending the signal to his throat that it needs to close so he can swallow. His throat muscles must be shocked back into action.
"I guess my brain's as stubborn as I am," Brad said, "and it wants to continue acting up sometimes."
Brad, who has been a patient at BenchMark's clinic in Dahlonega, Ga., hasn't backed away from his challenges. In his words, he is "soldiering on," even if one of his weapons is a children's book populated by cute bunnies.
Raising two girls
Brad, who hails from Smyrna, a suburb of Atlanta, and Terri, from southwest Virginia, met as freshmen cadets at what is now the University of North Georgia's Dahlonega campus.
They married during college and were stationed together in Georgia and Arizona. Terri was medically separated from the military by the time Brad deployed to Iraq. A one-year tour was extended, even as soldiers packed for home, to 18 months.
To spend any given day in Iraq was to be under fire, Brad said, but the attack for which he received a Purple Heart was something else altogether.
"They hit us with rockets and mortars at the same time and several small-arms fires, so it was quite the thing raging all around us," he recalled. "And I got hit from a building blowing up next to me."
Evacuated to a hospital in Germany, Brad subsequently spent time at Brook Army Medical Center in Texas, at a brain injury center in Virginia and then the wounded warrior transition unit at Fort Huachuca in Arizona before retiring.
Terri has been his caregiver throughout, even if Brad didn't initially remember who she was.
"He said I was pretty and nice, so he just followed me around and did what I told him to," Terri quipped.
After Brad underwent several surgeries and spent years in hospitals, the couple settled in Dahlonega, where they are raising two young girls, Belle and Snow.
'Given me purpose'
Brad returned to his alma mater to earn a master's degree in clinical mental health counseling. Since 2018, he has provided free counseling through Community Helping Place, a nonprofit that assists people in need in Lumpkin County, in north central Georgia.
Brad continues to take college courses, one at a time. The downside is that the intense concentration he musters for school and counseling also triggers headaches.
"I'm doing it and it's killing me, but at the same time, it's given me purpose," he said. He schedules sessions with patients with plenty of downtime in between for his brain to rest.
As a patient at BenchMark Physical Therapy, Brad worked with physical therapist Eric Steed. Treatment mostly focused on balance issues and relaxing and strengthening muscles at the base of Brad's neck that get tested by intense concentration and posture.
"Because those can be big headache generators," Steed said of the muscles.
Brad expects to need additional physical therapy over time. Terri has seen Steed, too, for her military service-related injury.
"I like the people there, I trust the people there," Brad said. "It's not like I look forward to needing to use them again, but if I do need to use them again, which I know I will, I'm at least happy about the people I'm going to see."
He said there's "not all the connectivity on my right side that there should be," and sometimes intermittent communication from his toes or feet or right hand.
"I know not to carry things in my right hand," Brad said. He can feel that something is clenched tightly when the hand is empty and open.
"And I'll look back and there's broken groceries a couple steps behind me," he said.
Kickstarter campaign
Between 2000 and 2019, according to the Defense and Veterans Brain Injury Center, nearly 414,000 U.S. service members suffered traumatic brain injuries. Yet Brad was unable to find any readily available resources to help children understand the effect of a brain injury on a parent.
His girls "started to catch on that Daddy's not like Mommy or Daddy's not like those other daddies around me," Brad said. "Even at 2 years old, they're picking up on these things.
Terri oversaw a Kickstarter campaign to publish Brad's illustrated book, "My Daddy Forgets (There is a Boo Boo in his Head)." In it, a girl bunny explains to a baby sister bunny about their bunny father's brain injury.
In a video accompanying the campaign, Brad explained that children may blame themselves for a parent with a brain injury being in pain or not understand why they can't be loud at home or why that parent is tired, grumpy or confused.
Having reached an initial goal of raising $1,500, the Blazeks established a stretch goal of $3,500 to allow them to donate 40 books to brain injury facilities or speech therapy offices. Once the book is published in hard-copy form, the Blazeks hope to sell it on Amazon.
Speech therapists have reached out to say that they plan to buy the book for their offices so parents can read it to their children during sessions.
"People have sent me notes," Brad said, "thanking me for it and (saying) it's exactly what they wish they'd had, what they need, so that's pretty nice."